When the navy chief Admiral Tan Sri Abdul Aziz Jaafar
espoused the concept of Sea Basing
and then
further elaborated
by the Minister of Defence himself, many has jumped on the comment bandwagon as if it is such a new concept. Many may have forgotten that the Navy has used their MPSS for such a purpose at a time in their history before as evidenced by this photo off the Sabah coast where the Inderapura played the role of mothership for the Jerong class FAC-Gs.
It has also been reported that a decommissioned oil rig has been proposed to be used as a logistics base or mothership but to me that is a bit wild as such oil rigs typically ride high over the water and easy ingress and egress for the vessels that they are supposed to support may be difficult, amongst others.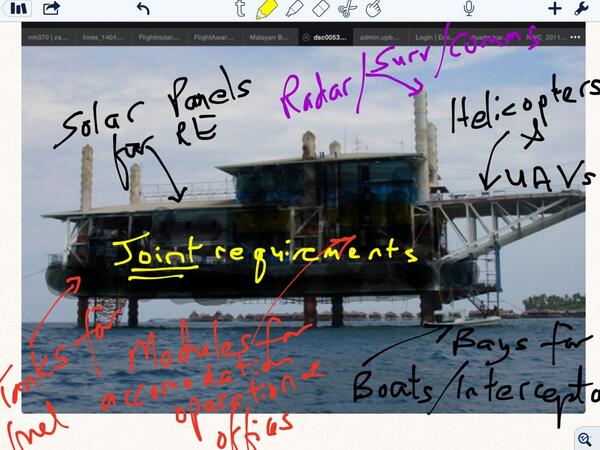 As for using the existing remaining MPSSs or the Auxilliary ships BM5 and BM6 as the motherships, I quite agree but the lead time may take a long time as the MPSS would surely need to be replaced by a new class of MRSS in their current logistics role while the BM5 and BM6 are still preoccupied with their missions in the far oceans.
So what is the navy to do to then to materialise the creation of a small naval base offshore on urgent basis? There is another methodology of sea-basing that the Navy has successfully implemented in their efforts to safeguard our territory before, that is to build up artificial reefs like
we have in the Spratlys
where we created some of the bases overnight in fact by grounding barges and building up the land around it. In fact since the land borders for the ESSCOMM is clearly defined, we could even build it at a proper but quick pace and give it a proper naval base functionality than a rush job like the proposed oil rig solution.
Ubi Reef
Sometimes the simpler method could be the best don't you think?